Waste Incineration Plants (also known as WtE facilities) should not be installed as a replacement for material recycling.
WtE is designed to complement recycling programs because not all waste is feasible to recycle.
Incineration is an engineering process that uses thermal decomposition in a highly oxidative environment to decompose organic molecules into simple compounds, predominantly carbon dioxide and water.
A necessary property of the waste material is that it be combustible. Incineration is a waste treatment technology that involves the combustion of organic materials and/or substances.
 For example, using incinerators medical wastes are converted into ash, flue gases, particulates and heat, which can in turn be used to generate electricity.
Incineration is a proven means for the destruction of many organic wastes. Information relating to the design, operation, and performance of incineration systems is presented. Incineration is the burning of waste with or without energy recovery.
Britain's Royal Commission on Environment findings in 1993 maintained that incineration is an efficient way of recovering the energy present in household wastes, in order to generate electricity or provide steam or hot water.
Incineration is one of the best methods of reducing the volume and hazard of organic hazardous wastes. Through incineration, more than 90 percent of the volume of the original waste is typically reduced. Incineration is a waste treatment technology that involves the combustion of organic materials and/or substances. Incineration and other high temperature waste treatment systems are described as "thermal treatment".
Incineration of waste materials converts the waste into incinerator bottom ash, flue gases, particulates, and heat, which can in turn be used to generate electric power.
The flue gases are cleaned of pollutants before they are dispersed in the atmosphere. Incinerators would emit a wide range of pollutants in their stack gases, ashes and other residues unless they are regularly tested and inspected by the operator and the local Environment Agencies to avoid the emissions which in the past have bedeviled this technology.
However, the concerns about Dioxin and other harmful emissions from incineration plants should now have been solved by the Waste Incineration Directive (WID) which has provided legislation which has ensured that very stringent regulatory limits now apply to all solid waste management incinerators. These regulations are enforced by the environment agencies in each member state.
The filters used to clean incinerator stack gases produce solid and liquid toxic wastes, which also need to be disposed. Municipal waste incineration is still the first cause of dioxin pollution, according to a 1999 UNEP study. Over the past few years, many countries have updated their old incinerators or built new ones so eventually that will change.
In doing so, they have taken advantage of improved technologies for air pollution control. This has resulted in a substantial reduction in toxic emissions. Although this is an improvement, toxic waste production is still a serious global issue. In fact, the problem has now shifted, and more dioxins and other toxic substances are appearing in the ashes, therefore creating new disposal and pollution problems.
The European Union has introduced measures to prevent or reduce, as far as possible, air, water and soil pollution caused by the incineration or co-incineration of waste, as well as the resulting risk to human health.
These measures include a prior authorization requirement for incineration and co-incineration plants, and emission limits for certain pollutants released to air or to water.
---
---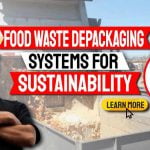 Food Waste Depackaging systems are increasingly being designed for sustainability and microplastic reduction which many would say is vital for the survival of our planet. Many people are interested in the rapidly growing anaerobic digestion sector, which uses mechanical equipment called depackagers or separators, to produce contaminant-free food waste slurries that may be piped into […]